One of the most painful aspects of formatting, or setting up a new machine is installing all the apps, and then updating the pre-installed apps.
Ninite.com is free and offers a simple interface that greatly speeds the process. Simply point-and-click. After selecting your apps, a single installation file is quickly generated for download. After running the installer, apps are downloaded and installed automatically.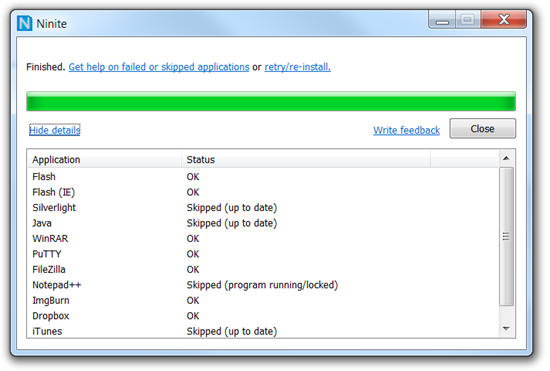 In addition to the time savings, Ninite offers the following advantages:
Latest versions downloaded.
Ninite automatically says NO to installing toolbars, and other junk add-ons.
Installer full automated. No clicking next, or any interaction needed.
32 or 64-bit chosen automatically.
No registration, or signup needed.
Rerunning the installer updates your installed software.
You don't even have to visit the website. Here's a Live example of the browser selection. Feel free to try it:
Or, you can also use URLs to specific applications. For example, to direct someone to download Microsoft Security Essentials, simply use: http://ninite.com/essentials
Ninite is free for personal use. A pro version is also available for your organization for $20/mo. It offers additional features.
What software is included? Apps are added based on user request, so it's best to visit the site for the latest offering. Current categories include Web Browsers, Messaging, Media, Runtimes, Imaging, Documents, Security, File Sharing, Other, Utilities, Compression, and Developer Tools.

Whether you're upgrading to Windows 7, reformatting an old computer, or setting up a new one, try Ninite to save time and frustration.