To many Windows users, it sounds all too familiar. Attempting to watch a video online, a prompt directs them to download a codec to enable viewing. However, the download is malware, and it infects their computer.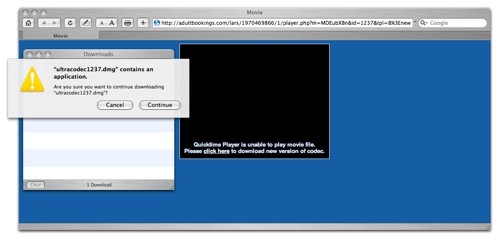 Now this popular, and successful social engineering technique is being used to spread a Mac OSX trojan, OSX.RSPlug.A. At this time spam is being flooded onto Mac forums trying to lure users to the sites where this is employed. The pornography sites present a still image of a video. Clicking on the image to play the video returns the following message:
Quicktime Player is unable to play movie file.
Please click here to download new version of codec.
After that page loads the malware is download as a disk image (.dmg), and launches an installer. The installer requires the user to enter the admin password. If the password entered then the malware infection is complete. This infection alters DNS setting to redirect web pages, and advertisments for porn sites. However, it could just as easily be used for phishing attacks, or search redirects.