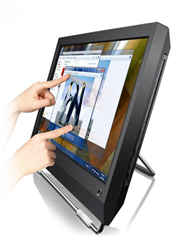 It was just like out of an old country western movie. So there I am, sitting in the bar minding my own business when a guy walks up to me and says "You work in a school right? Wanna try out a new computer?" Well, not exactly like a country western movie, but close right? Now this conversation may sound really strange to someone looking in, but to understand the context you've gotta understand that this bar was in Seattle, Washington and I had spent the day at the Microsoft campus in Redmond for the annual Microsoft MVP Summit. Computer chatter over a beer was commonplace.
The guy I'm talking about works for a fantastic company who wants to give me a Lenovo M90z on a long-term loan to let me play with it and see what I can use it for.   The M90z is an All-In-One (AIO) multi-touch computer from Lenovo.  Everyone knows that touch computing is the way of the future. From smart phones, to tablets, to slate computers, everything is going touch. So why shouldn't the desktop offer some form of touch component?
When the Lenovo M90z finally showed up at my door after a battle with FedEx, I was surprised at the size of the box. I know a 23" screen is big, but this thing is huge. The box weighed in at about 35 pounds, so it's no lightweight. Inside the box are only 4 components. The computer, the keyboard, the mouse, and the power cord. Being an all-in-one computer, nothing else is necessary.  One exciting thing missing is a power block like many other AIO computers – all the power components are internal on the M90z.

After unboxing this thing, I could only think of one word. Wow. While the sheer size of the machine is impressive from the front, from the side the computer is barely deeper than a comparable flat screen monitor.  As is typical with a Lenovo computer, the M90z has the old black and boxy look that we're used to.
The metal base that holds the unit off the table and the stand that hold it upright are both hefty enough to take the pushing that a touch computer will inevitably experience. The last thing you want is for your 23" computer to come crashing down off the table during a raucous game of angry birds!  There is also a built-in carrying handle on the back of the machine, not that you'd want to carry around this 35 pound beast too often.
The M90z comes with different features depending on how you want it configured, but the unit I have has a 3.2 GHz Core i5-650 Processor, 4GB DDR3 RAM, Windows 7 x64 Pro, 500GB Hard Drive, 6 USB ports, DVD RW drive, 802.11n wireless, gigabit ethernet, and standard audio input/output. The M90z also comes with VGA out and VGA in capability. Not only can I hook a second monitor to this computer, but I can also hook another computer to the M90z and use it as a 23" monitor!
The M90z sent to us for review is an impressive computer.  I ran a benchmark test called Geekbench and the M90z scored a 5315 overall.  While this number means very little to most people, you can see how the M90z compares to your computer to see what your experience may be like.  What means more to most people is that with this computer, I can stream HighDef video from the web, have several things open in Office, have multiple tabs open in IE9, and still have plenty left to have LiveWriter open to write this review.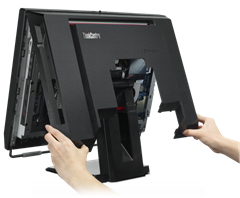 The M90z is actually very easy to service, especially compared to other AIO computers that I've used in the past. On the back of the unit are two finger slides to unlock the case.  Once inside, the components of the computer are all laid out and easy to repair or replace.
In education, touch computing devices have grown in popularity, especially with multitouch computing devices that offer more options for students.  For students of all ages, from kindergarten to seniors and especially those students with disabilities, touch computing is much more intuitive.  You put your finger somewhere and it does something.  Between the intuitive nature of touch computing and the immediate feedback given, this style of input generates better feedback, thus giving students a better computing experience.
The multitouch component is where this computer really gets fun. Sure, the 23" monitor is great, and the AIO factor is cool, but touch computing is where the fun is really at. With the supplied Microsoft Surface Touch pack installed, this thing is like a vertical version of a Surface computer, but even better because it has a keyboard and mouse. Haven't played with a Surface computer yet? You're missing out.
The capacitive touch screen on the M90z is incredibly responsive. I took some yarn, tied a knot in the bottom, and was able to draw on the screen with the knot while suspended a foot below my hand.  In normal use, the screen reacts better the lighter touch you use with it.
The big concern I had about a touch screen computer is its durability. So I put the M90z to the ultimate test. I let my 4-year old son play with it for a while. He chased fish around the Surface Pond, drew pictures in Paint, looked through photos in the Surface Collage, played a game on the Surface
Blackboard, and moved some things around on the desktop for me to try and find later. At no point did I remind him to be gentle to the computer, I let him play and have fun. I also took the computer to work and let students and staff play with it. When I had an opportunity, I took it to a community event and let anyone who walked up move pictures around in the Surface Collage.
Now, I realize that this doesn't represent the kind of torment that someone can do to a computer over a long period of time, but even with many different people banging around on the touchscreen over the course of a few weeks, it didn't faze the computer. Over time, I plan to utilize in this computer in different ways and will hopefully give some updates on how it works with new updates to Windows or if I find new ways to use it both at work and at home. Stay tuned.
Overall, I find the size impressive, the touch screen awesome, and the computer pretty nice.
Pros:  This is a solid computer from a performance standpoint.  The Core i5 processor and 4 GB RAM gives the kind of computing experience you would expect from a new computer.  The multitouch screen is an excellent addition to any technology collection.  The touch screen is very responsive and held up to everything I've done to it so far.  Touch is the way of the future, this is a good way to jump on.  The power components are built in, so no power brick necessary!  Solid, sturdy construction with lots of exterior ports.
Cons:  Price is a factor with the M90z.  The unit I was given to review would retail right around $1200, which is more than most people will want to spend.  I still think it is worth the money, but it is kinda pricey.  There is no HDMI – in or out which is made even more unfortunate because there is no Blu-Ray player built in.  Blu-Ray would be a fine addition to this HD monitor, making it a great computer for a dorm room or bedroom/office combination.  No eSATA (I figured this should be standard for new computers by now).