As part of the home data safety series, I went out and got myself a 750Gb miniStack NAS from NewerTechnology.  There are many different NAS device options available, this is just the one that I liked based on price and features.  At first glance it solves all the problems that plague the other home data security options.
Many people/computers can access it at once.
There is no limitation on read/write.
At 750Gb, it should have more than enough space to fit all your data for a long time to come.
The price is more than reasonable at $250.
It's physically small enough to fit into a safe or store with a neighbor when not being used.
You have fast access to the data via 100mb network.
You have even faster access to the data via USB 2.0 when necessary.
Your important and personal data is not housed and secured by a stranger.
Lets look beyond the first impression and see what this particular drive can really do.
How it works – a Network Attached Storage device is basically a hard disk in a case that has the ability to attach to the network and offer its available space to network users who have security access.  Its not a computer, although from your desktop it may appear to be a file server.  When using the NewerTech NAS, the provided software automatically detects the device when its connected to the network.  It installs itself as another drive on the computer similar to the floppy disk (A:) and hard disk (C:).  You can either use the provided software to do automatic backups, or you can manually drag and drop your data onto the NAS.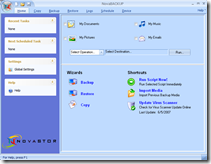 Software – The NewerTech NAS comes with three different software packages to make backing up your computer easy.  Two are specifically for Mac – Intech Hard Disk SpeedTools and Prosoft Data Backup for Mac.  One software provided is for PC – NovaBACKUP for PC.  Since I do not own a Mac, I can only test the PC software.
The NovaBACKUP software has a very clean and intuitive interface.  The initial screen is a kind of "quick-backup" screen.  If simple is what you want, this is it.  Just place a check next to one of the popular items listed (My Documents, My Pictures, Etc….) that you want to backup, select Backup from the drop-down menu, and select your miniStack NAS device or a folder on your NAS as the place you want to backup to.  It can be that simple.
Alternatively, the software has the option to go more in-depth.  If you have specific folders that need backed up more or less often or you have a folder full of junk that you don't want to include in the backup, you can go into a full folder layout screen and check exactly what you do and don't want to backup.
NovaBACKUP also allows you to choose full, incremental, and differential backups as a way to save time and bandwidth when doing backups.  A full backup is what you want to do the first time, but after that, you can run incremental backups.  An incremental backup only backs up files that have chanced since the last backup.  If you added a file, it will go.  This keeps you from having to backup the same files over and over if they haven't changed.
Speed – Testing the speed of a device like this is a very difficult thing to do.  There are so many different variables to take into account that any test of speed would be inconclusive at best.  The rate of transfer to any device such as this depends on other network traffic, the speed of your router/switch and your sending device, and many other things.  Just know that my results may vary from the results that you are able to produce.
The NewerTech NAS employs a flexible design that allows multiple methods to connect to the drive.  Like any other NAS device, its got an RJ45 port (Cat5/6 cable) for connecting to the network.  This particular model also has a USB 2.0 port to allow faster transfer when backing up mass amounts of data.
Since I have a large amount of data to backup, I started out by doing a full backup via the USB 2.0 interface.  This method significantly reduced the amount of time necessary to do a full backup of my 45Gb "My Documents" folder and 8Gb Outlook database.  This transfer took about an hour to complete.  Considering the massive amount of data to transfer, this is actually a fairly impressive time.
Now that all my data is on the drive, I'll mess around with some things, add some files, and try an incremental backup.  I'll offload all the pictures from my digital camera and change a few word documents to see if it picks up all the different files.  In all I added and/or changed about 1Gb worth of files.  The incremental backup took just over 6 minutes on my 100Mb network.
Durability – The MiniStack NAS comes in an attractive white plastic case.  While it doesn't have a specifically rugged look, the inside of the case is designed to help in the event of a drop or fall.
While spinning, the NAS will be susceptible to shock like any hard drive.  As the platters spin around, any shaking can cause the reading arm to slap against the platter which could cause it to scratch or mar the surface and make the data on that part of the platter to be unreadable.  Unfortunately this is just a fact of Hard Drive technology and there really isn't anything that anyone can do to fix it.  IBM has had some success with drop detection where the computer detects a drop and stops the platters from spinning, but that technology is a long way from being perfect and even longer away from being implemented into something small like a NAS.
Flexibility – Not only does the NewerTech drive allow multiple simultaneous connections and multiple levels of user security that provide great flexibility in its implementation and use; its physical placement options are nearly limitless.  Anywhere with a network connection and power can house this thing.  It's small and lightweight which means that you can stick it on top of a bookshelf or a cabinet.  It boasts great cooling abilities which means it should hold up well in a confined area.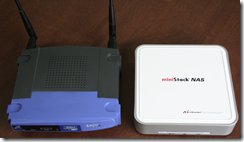 Security – The NewerTech drive comes with a comprehensive security package that allows a user to define who can and who cant access data on the drive.  You can secure the entire drive from others, or you can allow access to just certain parts of the drive.
All NAS devices require a Device ID and Write Key to gain access to the drive initially.  Both these codes are only available on the bottom of the device, so a would-be intruder would have to physically have access to the device before gaining access.
Once inside the device, an administrator can set separate permissions on the folders on the drive.  This allows flexibility when installing the NAS on your home network.  To ensure that your work data doesn't get deleted by your inquisitive children, you have the ability to restrict their access to your folder.
Overall – Compared to other home data security and backup alternatives, the NAS seems to have everything you could want, with none of the downside.  The NewerTech miniStack NAS comes with some great software, has a USB option for faster transfers when necessary, good security, tons of space, and comes in at an impressive price.  Anyone looking for a secure storage solution should certainly look very hard at the NewerTech miniStack NAS.
Rating: