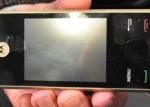 If you are one of the people – like me – who cannot yet give up your land line, Motorola may just have the answer for you! The new HS1001 cordless Android phone allows you to not only call your parents, but also enables you to check the Web or your email! This sweet little gadget will be available this summer for around $150.00 in the United States.
The phone features a 2.8-inch touch display on its back, and is Wi-Fi capable. The handset will come with a speaker-equipped charging station, which will enable you to play your favorite music while docked! How cool is that? The downside is the fact that the phone (as of now) will not have access to the Android Marketplace. Several people are complaining loudly about that fact. Let's face it, allowing access to applications can only serve to enhance the phone's value to consumers. Who knows? Maybe we'll still see a version that will let us grab all of the Apps we cannot live without.
Sadly, there isn't a lot of information floating around as of yet about this phone. It's being shown at various trade shows and conferences this Spring, so keep your eyes peeled for more home phone information goodness! I don't know about you, but I'm going to try to get my hot little hands on one to test and review! Keep your fingers crossed… you might just get an inside look at this phone one day, right here on this blog.