Rufus is a tiny and lightweight program that helps format and create bootable USB drives.

In this scenario we'll take an ISO of Windows XP and create a bootable USB that could be used to install Windows on a system with no optical drive, or to repair an unbootable system. Another common use for bootable USB drives is to flash a BIOS or other firmware.
The first step is to download Rufus (154KB).
Double-click rufus_v1.1.7.exe (or latest version number) to start.
If User Account Control elevation is requested, allow it.
Select the USB device to make bootable. In our example it's K:, a 32GB drive.
Select File System. We'll use the default (FAT32) for our Windows XP bootable drive.
Cluster size, again the default (16 kilobytes)
Enter a volume name (optional)
To create a bootable disk from an ISO file, the ISO button must be clicked (see red arrow).
Select the ISO file on your system from the file explorer, and click the Start button.
That's it! Sit back and wait for your bootable drive to be created.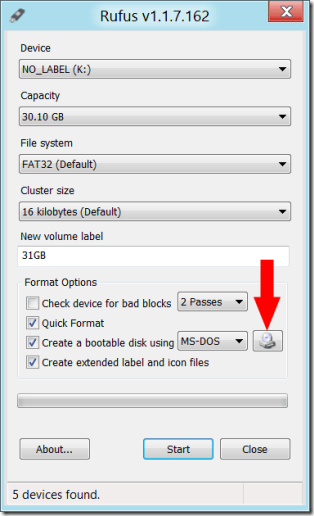 How fast is Rufus? Here's a comparison from the developer's page:
Time to create Windows 7 x64: en_windows_7_ultimate_with_sp1_x64_dvd_618240.iso
| | |
| --- | --- |
| Windows 7 USB/DVD Download Tool v1.0.30 | 8 mins 10s |
| Universal USB Installer v1.8.7.5 | 7 mins 10s |
| UNetbootin v1.1.1.1 | 6 mins 20s |
| RMPrepUSB | 4 mins 10s |
| WiNToBootic v1.2 | 3 mins 35s |
| Rufus v1.1.1 | 3 mins 25s |
Rufus should work with any ISO. Have a CD or DVD but no ISO file? CDBurnerXP is free and can be used to create an ISO from either a CD or DVD.
Rufus is open source, you can find out more information on this handy little utility from the developers page: http://rufus.akeo.ie/