Overall Rating: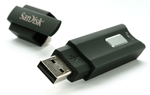 One of the biggest challenges for personal and corporate computer users is the security of sensitive data.  When data is stored inside a corporate network, it's usually firewall and password protected to ensure its safety.  Unfortunately for IT Security personnel, all their security is worthless when sensitive data is transferred by USB key.
To combat this security hole, many companies have switched to encrypted-only USB keys.  The problem with most encrypted USB keys is that the security can be turned off.  When a user gets tired of entering a password every time, they have the option to just go in and disable the software that encrypts the drive.
The solution is a USB key that offers encryption at the hardware level.  The SanDisk Cruzer Enterprise does just that.  The Cruzer Enterprise boasts 256Mb hardware-based mandatory encryption.  Let's take a closer look at the offering from SanDisk.
The Cruzer Enterprise comes in 1, 2, 4 and 8GB size, which is surprising since the Cruzer is marketed towards "Enterprise" customers.  As a corporate user, I don't use anything less than 16GB since anything smaller will not fit all the data I need to carry for work.
The price of the Cruzer is on par with its competitor the IronKey, however it lacks many of the features that make the IronKey such an alluring investment.  The price of the Cruzer is $80 for the 1GB and $240 for the 8GB.  This price may seem steep, especially compared to your typical USB key that you can pickup up at any electronics store, but remember, those are not hardware encrypted.
You may ask, why do I need a hardware encrypted USB key?  If you are not an employer who needs to require encryption for your employees' USB keys, then you might not.  It's nice, and generally more secure, but certainly not necessary.  Any USB key can be encrypted with a free download.  You can get faster keys with twice the storage space for the same price.
The real benefit to a hardware-encrypted device is in the case of theft. From a data retrieval perspective, it's irrelevant if it's stolen, because then you are likely not getting that data back anyway. The hardware encryption. however, will keep the average thief from using the USB key at all. They will just throw it away. With a software encryption option, your typical thief will be able to format the USB key and use it, but your data will still be inaccessible. In either case, your data will be safe from most people, but you will probably not be getting your data back.
The hardware encryption option does offer significantly better protection from an advanced hacker. The encryption key on a hardware encrypted device is stored on the device and cannot be transferred to a host computer. The hardware device also keeps track of the number of access attempts itself, rather than relying on the host computer to keep track.
Another major benefit to this device in an Enterprise environment is that the Cruzer has a password that cannot be turned off. It can be changed, but it must be a strong password, so it's still secure, even if changed. If I were a company with sensitive data, that feature alone would be worth it.

Overall this product is really difficult to rate.  Is the price worth the security?  That depends on the level of security you require.  Do you have data that you need to secure from even the most nefarious of hackers?  Then you need a hardware encrypted USB key.  If your purpose is to keep your brother from looking at your diary, then a software option would be the best way to spend your money.
Appearance = Rating:

Quality =  Rating:

Ease-of-use = Rating:

Features =  Rating:

Performance =  Rating:

Value = Rating:


===========
Overall = Rating:

Rating: