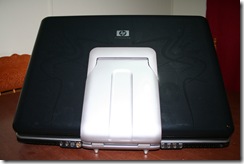 Before someone gets to win it, I get to play with it. The HP Dragon arrived on my doorstep this morning. This thing is huge. By huge, I mean enormous. Literally gigantic. This is a notebook of epic proportions. You can't call this thing a laptop, because no one has a lap this big.
This notebook will be given away via our contest. We are part of the 31 days of the Dragon sponsored by HP. Each day for 31 days, HP is going to give away one of these notebooks through a blog or other participating website. GeeksToGo.com was lucky enough to be chosen to be part of the contest. Our contest begins May 13th and will end May 20th.
On to the review. Did I mention that this notebook is big? They don't call it a "Desktop Replacement" system for nothing. The standard size for a desktop monitor is still 17″. This monstrosity has a 20″ widescreen display. Even by desktop standards, this monitor is still big.

Besides the monitor, the rest of this machine qualifies as mammoth as well. With a 2.8Ghz Core 2 Duo processor and 4GB RAM, the dragon has the processing and caching ability to handle anything you can throw at it. With the 512MB nVidia GeForce 8800GTS, the Dragon has enough video horsepower to run most video-intensive applications and games. Finally, with a 500GB Hard Drive, the dragon has a big enough belly to fit almost 100 movies.
The Dragon is an impressive looking creature. Not just because of its gigantic size; it also has an "etched" looking dragon on the cover of the machine. This shady creature looking at you on the cover, along with the glowing HP logo at the top, makes the notebook's look as impressive as its performance.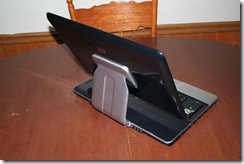 The monitor is high quality and has a dual hinge set-up, which means you can still close the top on the monitor like a typical notebook computer but for viewing, the hinges allow the monitor to articulate closer to the user while still tilting back for better viewing.
The Dragon comes with a nice little HP remote, which is great for DVD viewing. The 20″ widescreen isn't theatre size, but it's got a very crisp High Definition display at a decent size for watching movies. You can even control the TV if you take advantage of the HDTV Hybrid TV Tuner. The remote makes controlling the entertainment portion of this notebook very easy. It's a nice addition to a "desktop replacement".
There are a few small things that give this notebook a little more wow factor. It's got a built in webcam for chatting with your friends on the Internet. It actually has outputs for surround sound equipment. There are enough USB ports to run your entire office. You can login to this beauty with one finger thanks to the fingerprint scanner. Overall, it's got all the bells and whistles that you would expect in a high dollar computer.
To test this beast I started with the standard Microsoft benchmark – the Windows Experience Index in Windows Vista. The Dragon scored a fairly impressive 5.1 on the Index scale. 5.9 is the maximum score for the Index. The Dragon scored the maximum in both Graphics and Gaming Graphics. It scored a 5.6 in the Processor test and 5.3 on the Hard Disk test. The only thing that brought it down to a 5.1 was the RAM test which seems odd for a machine as RAM heavy as the Dragon. While the test is more about speed than amount, you would think that a machine with that much RAM would have fast RAM.
Next I tried to benchmark this system to see how it would fare against some non-windows tests. First up is the 3DMark06 software from Futuremark. 3DMark06 is the standard to test out the graphics on any serious gaming system. This software generally gives a very nice comparison graph, but unfortunately it didn't have enough data to compare with the Dragon. The "Common System" score is 11600, while the "Fastest System" score is 32610. The Dragon rolled in at an impressive 12832 3D Marks score. While this may not mean a whole lot to everyone, it does show that the Dragon is indeed an impressive beast, above the common machine.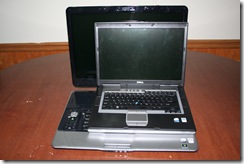 The Dragon is heavy. Not a little heavy, a lot heavy. The notebook by itself weighs at least 15 pounds. Add to that the ~5 pounds of power block and you have a unit that you don't even want to think about lugging around very often. I have a 15″ widescreen notebook that weighs 5 pounds that I carry with me everywhere, every day. I also have a 17″ widescreen notebook that weighs 7 pounds. I don't look forward to carrying that thing on the occasions that I do have to. The thought of carrying around 20+ pounds worth of computer is certainly less than appealing.
The Dragon should not be classed as a notebook. When someone thinks of a notebook computer, they think of portability. Thefreedictionary.com says a notebook is "a small compact portable computer". The Dragon is so huge and heavy that it's anything but portable, and it is certainly not compact. The problem is that it was never intended to be either. It needs its own class. This machine is a desktop computer, without all the cords. Call it a desktop hybrid, or a compact desktop. Just don't call it a notebook.
If your intention is to purchase a compact, portable computer to watch a movie on a plane or play games on a family trip, look elsewhere. The Dragon is too large and heavy for most people to perform these tasks. However, if you want a computer that has some serious muscle, performs like a champ, fits in a small room (like a dorm), and will make your friends drool with envy, this is your machine.
Overall this system is amazing. Its impressive size, speed, and quality do a good job of offsetting the cumbersome nature of a beast this large. If you were to win this machine, you would be a lucky person. You are getting a truly impressive machine. If this machine doesn't make your friends drool, you might want to consider dating a supermodel.
Rating: