Officially, Microsoft Security Essentials "is not compatible with Windows 8". Unofficially, it's been renamed Windows Defender. If you've used Microsoft Security Essentials, the new Windows Defender bundled with Windows 8 will have a very familiar look and feel.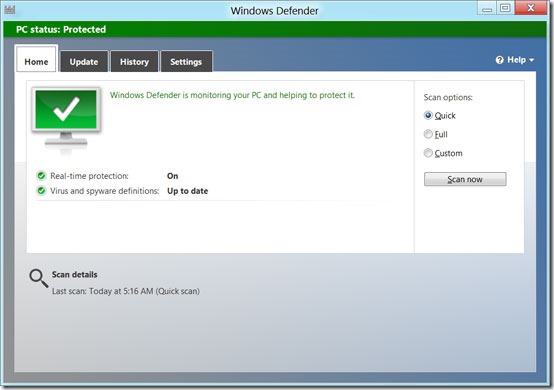 Microsoft Security Essentials has gained a lot of momentum in recent years as a terrific, and free antivirus solution. Some would argue one of the best antivirus solutions at any price. It's reputation is deserved. It is light on system resources, runs silent, and has good detection and removal. Windows Defender on the other hand was primarily an antispyware application. A remnant of the pop-up ad era, and what remained of the Giant antispyware acquisition. Installing Microsoft Security Essentials (MSE) even disables Windows Defender.
So why would Microsoft chose to confuse customers by dropping the Microsoft Security Essentials name in Windows 8? It's a business decision. Bundling full antivirus protection with Windows 8 is a bold move on Microsoft's part. One that obviously caught the eye of in-house legal hawks, and angered the antivirus industry. Microsoft recently ended its anti-trust oversight, and while it may be bolder, it's not stupid. Windows Defender has been bundled since Windows Vista. While Microsoft Security Essentials would technically be a new bundled application, Microsoft can claim Windows Defender has been bundled for years. Windows Defender may not have the reputation of MSE, but that will be changing.